Getting started: help with the 3D Design Editor and catalog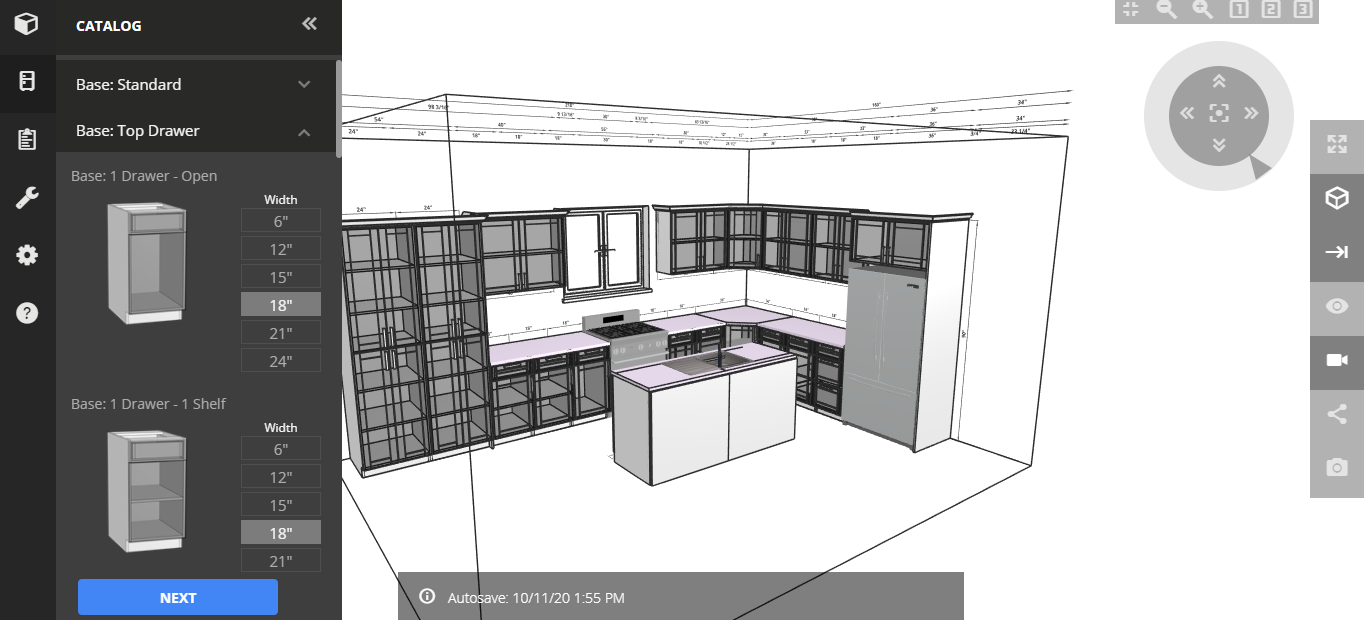 Most of the information you need to get started is on this page. For more detail you can also check this help document.
The cabinet catalog and design tool are easy to use. Follow the steps on this page to get started.
Note that there are two ways of selecting cabinets: a point-and-click cabinet catalog OR a drag-and-drop 3D room designer. The 3D tool is the most fun.
Begin by creating a new account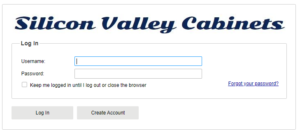 Click here to log in or create a new account. It's free and runs in a browser (Google Chrome, Microsoft Edge or Firefox), so you don't need to install any software.
Choose from the catalog or use the 3D Design Editor
Once you are logged in you have a choice:
Select cabinets from a catalog and set their specifications
or
The catalog is a point-click interface that looks like this: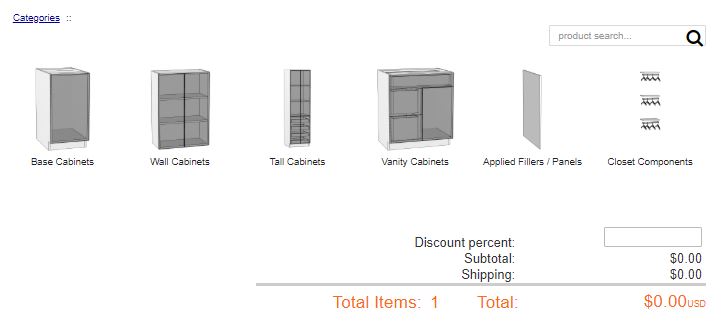 The 3D Design Editor is a drag-and-drop interface that allows you to set the floorplan of your room, set specs for your cabinets and drag cabinets into the room. The interface for the 3D Design Editor looks like this: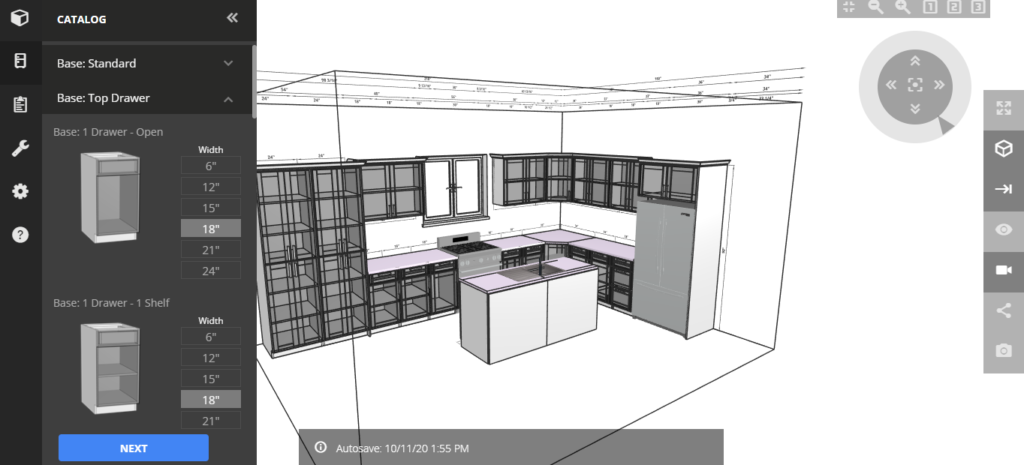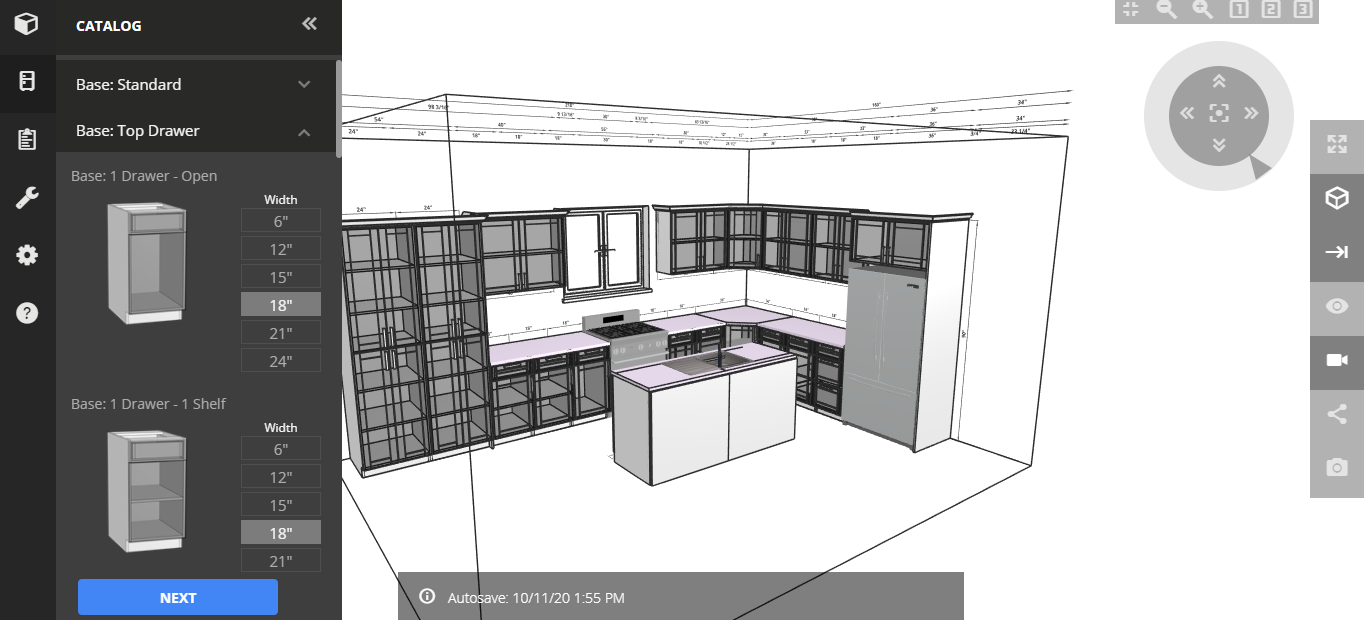 Open the 3D Design Editor
To access the 3D Design Editor, look for the "Design Editor" button in the lower-left corner of the screen: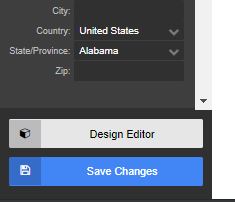 Please be patient while the editor loads into your browser - it can take as long as a full minute to load.
Once you have clicked the "Design Editor" in the lower left of your screen you will see an empty room like this. Global specs, like your door front finish, are set here so every cabinet you drag in uses the same materials. Similarly, you can turn on/off toe kicks as a global setting here. How do the toe kicks work.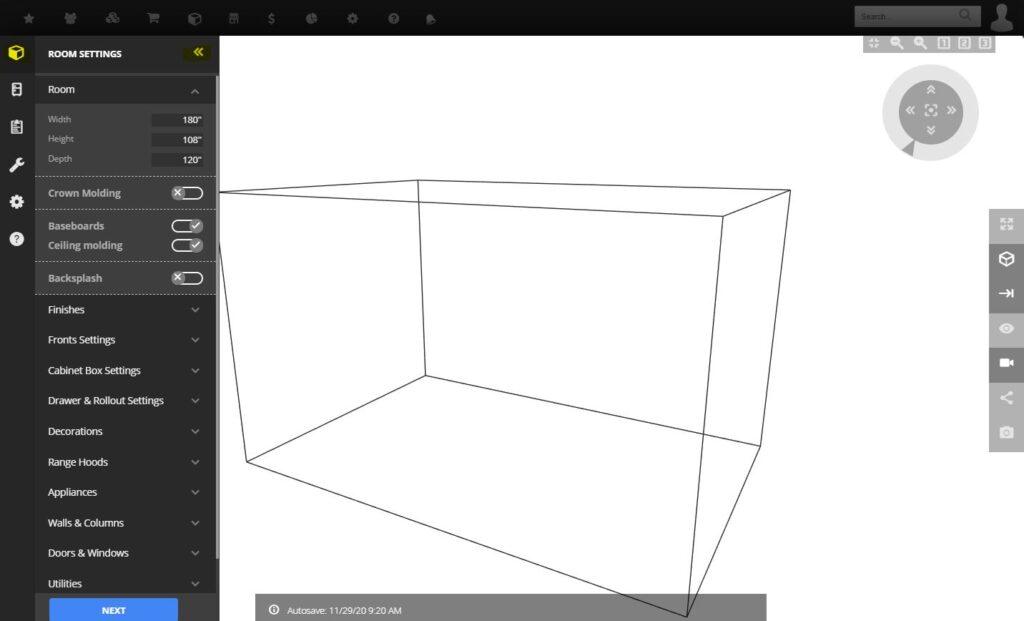 Look for the 3D cube in the upper-left hand corner. This opens a menu that contains your room dimensions and features (like die walls, windows, doors, etc) and your cabinet specs.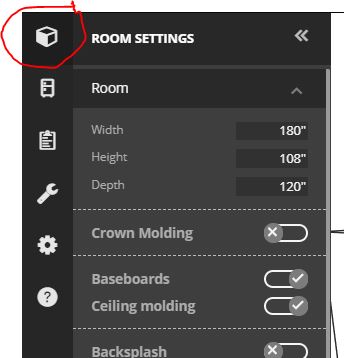 Here you can add doors, windows and room features, such as walls and protrusions.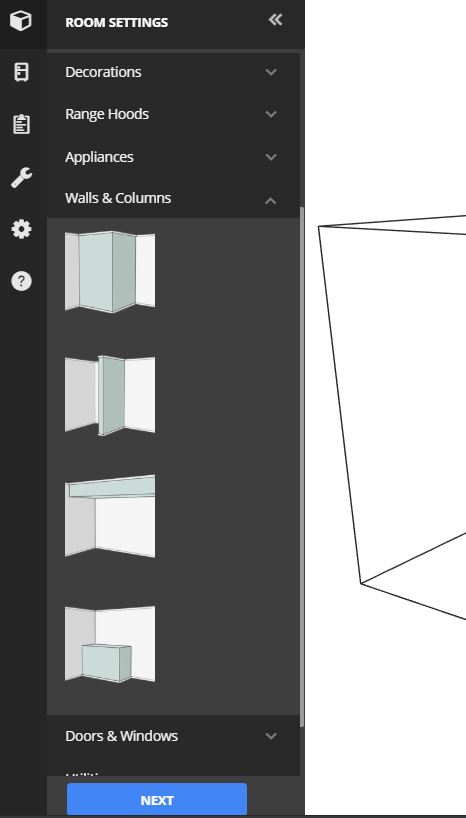 Stay in "Room Settings" (3D Cube) to set your cabinet specs. This includes things like your cabinet material, door front style (slab or shaker), door front finish material, drawer box material, toe kick and more. Setting this information here guarantees that, when you go to the next step and start dragging cabinets into the room, they all have the same styles and materials.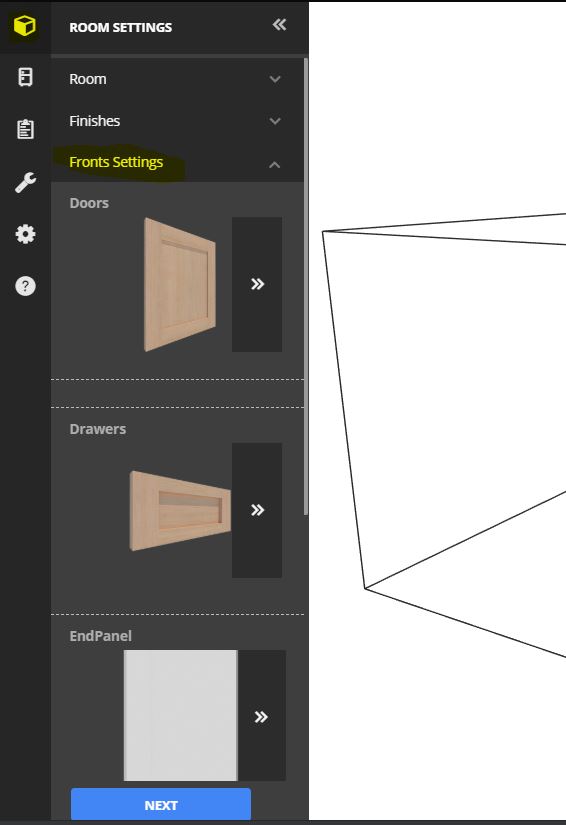 Now you are getting to the fun part. Click the cabinet icon in the left nav to see your cabinet choices.
Select the cabinet you want with your mouse and drag it into the room. You can re-position later so don't worry too much about location yet.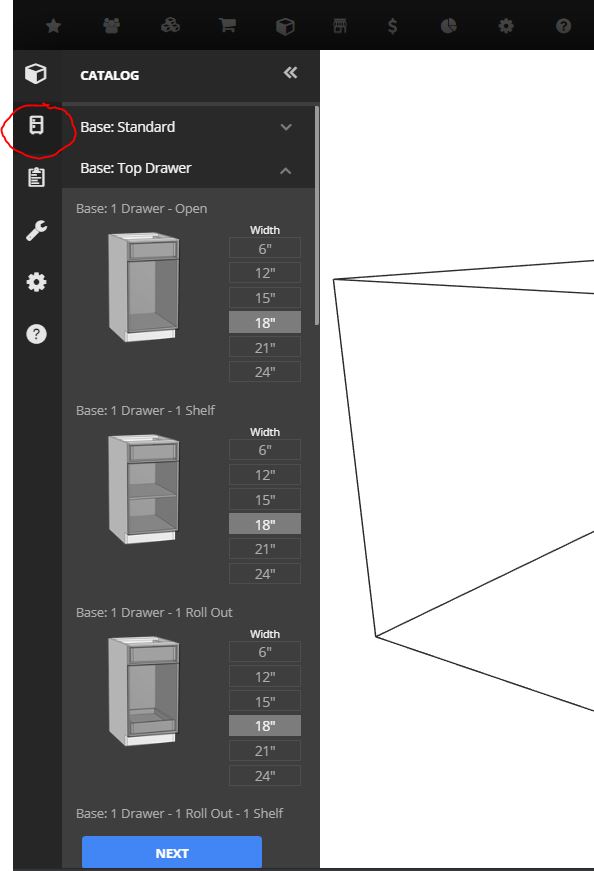 Now set the dimensions (width, height and depth) and other details for the cabinet, like door hinge side. You can always come back to it later and change details if necessary.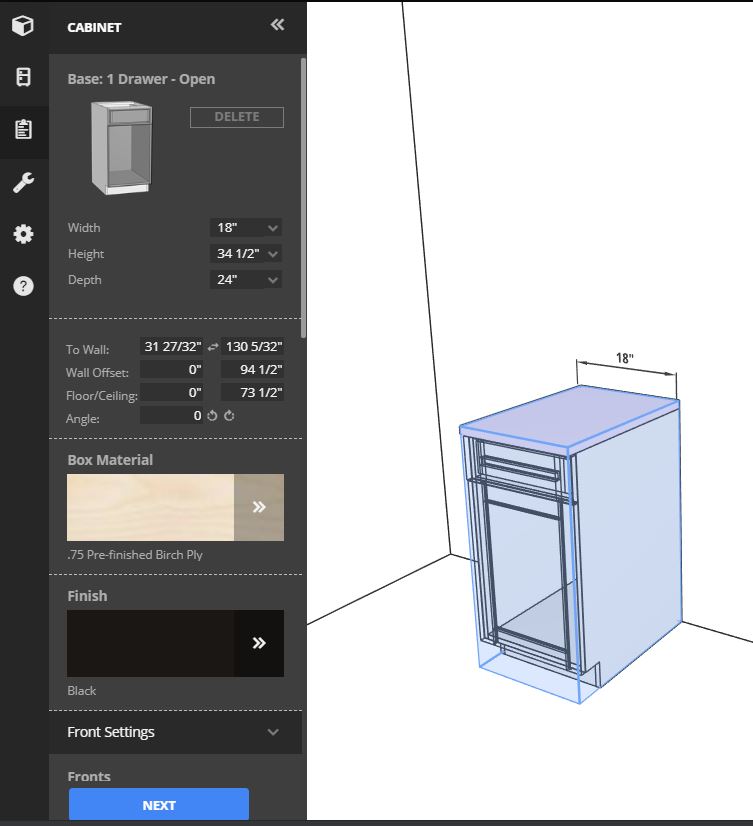 Please take a moment to read the cabinets specs.
The height of the cabinet includes the 4" leg levelers. A 34" tall cabinet is 30" of box, 4" of legs. Read more about how our leg levelers and toe kicks work.
If you don't want toe kicks, simply add 4" to your cabinet height and don't attach the leg levelers.
The leg levelers can come with a toe kick cover that snaps on to the legs. For kitchens and bathrooms this gives a standard, finished cabinet appearance.
Cabinet interiors are white or pre-finished birch, depending on the box material you choose. The box is then edgebanded to match your door front color.
Applied finished ends. The applied finished end is a color panel that matches your doors - it is necessary where the exterior end of the cabinet is visible (not against a wall or another cabinet). This applied finished end adds .75 to the width of the cabinet.
The depth of the cabinet is the box only! The cabinet depth does not include 7/8" (.875") for the doors.
Shaker doors come in Wilsonart colors only. Slab doors come in all colors. If you choose "shaker" and "Private Reserve" the software will alert you that this material is not available for shaker doors.
DON'T USE THE BACK BUTTON! You will lose your order. This applies in the future, too, if you are just returning to look at your cabinet. THE BACK BUTTON IS YOUR ENEMY IN THIS TOOL - DON'T USE IT!
Instead, please use this nice, friendly "NEXT" button at all times.

Before you check out, call or send us an email. We would like to review your order with you and clarify your design. 831-421-9440.
Look for the check out buttons in the lower-left of the screen. After you click "Submit Order" you can check out with a credit card. We will follow up with an email that has your invoice and payment confirmation.